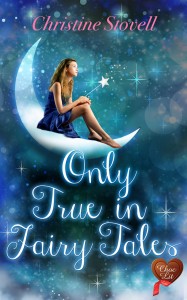 "It's never too late to believe in fairy tales…"
Eloise Blake has been fascinated by Prospect House, the shadowy romantic Gothic house opposite, ever since she moved to the village of Hookfield.
When its new owner turns out to be best-selling crime author, Ross Farrell, whose work is grounded in gritty reality rather than happy endings, Eloise is determined to concentrate on her tapestry design business and her rescue dog, Gracie.
She's already given up on knights in shining armour and happy ever afters.  Love, she thinks, is only true in fairy tales – even when Ross keeps appearing just when she needs help most.  But is he the Prince Charming she thought didn't exist – or is he a beast in disguise?
Available as an ebook and as an audiobook narrated by Jenny Funnell
"A truly feel good story with the added attraction of a rather lovely dog. The author has the ability to describe her characters and scenes so vividly that you are immediately transported into the story with clear images in your mind. Her writing is elegantly crafted and the story, with its ups and downs, a joy to read."